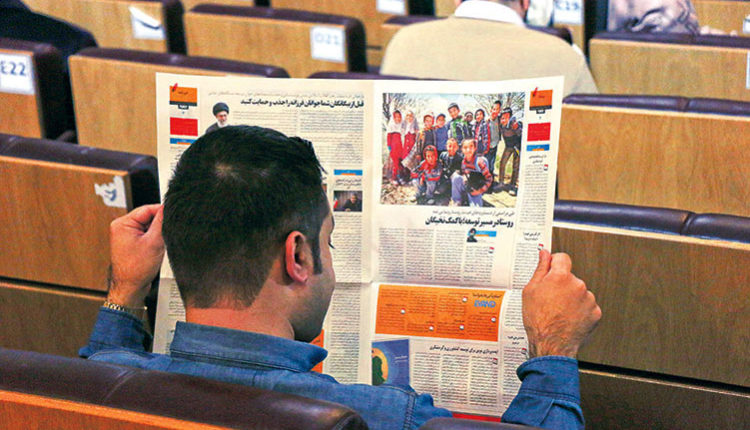 Shanbe Team and Unsaid Words
Shanbe is run by a coherent and thoughtful team and this coherence can be felt when you read the pages of Shanbe Magazine.
Prepare ourselves for change
Azadeh KheirAbadi:
I have worked with Shanbeh team for two months; all the moments were full of learning, cooperation and effort.
Shanbe is run by a coherent and thoughtful team and this coherence can be felt when you read the pages of Shanbe Weekly; a coherence that is shown in collaboration with Iranian startups.
Shanbeh is a media that shows the unknown environment of startup ecosystem in Iran so that all people can experiment the new style of living.
I was involved in different business spaces due to my study major and I became so interested in online business when I was defending my M.S. thesis that I chose this topic for my thesis.
In 1391, this level of progress in startup field was unbelievable for me and maybe many of people who worked in these fields but now we live in a time when Iran business space is changing and sooner or later old habits of people should be changed.
Here a media like Shanbe is needed to fill the big gap and its need is felt so that it contacts with startups on one hand and with society on the other hand and prepares the space for accepting startups by the society through simplifying the content.
This year we celebrate first anniversary of Shanbe while many of startups that were launched early in 1395, have now become big businesses, the time is passing by fast and we should adopt ourselves with these changes.
Run, Laugh and Work
Lili Eslami:
For many of us, work means the whole life. Every day we sit in front of the monitor and live with our work. With the successes that happen behind these monitors, we become happy and with its failures, we see the rest of the day foggy.
Our work, is the main part of our lives. If it is good, we are good, if it's bad, we are depressed! We let it grows its roots in every second of our lives and imposes itself on our mobile phone even when we are at dinner table or vacation.
We are so drowned in our 10 to 15 inch monitor that we have forgotten in the middle of springtime, our backs are bent.
Our minds are full of thoughts about digital progress and we have forgotten that we haven't laughed for days! We haven't laughed from deep inside with loud voice.
Our work has become all our lives and we ignore our sorrows; our sorrows that we hide among opened pages of our monitors and folders on our desktops.
Days are passing and we don't pay attention to the fact that we are getting old in front of these monitors.
Lifestyle page of Shanbe is born to remember all these forgotten facts; to show the worn cervical spine, damaged knee joint, wrinkled and stained skin and the should which is more vulnerable than before.
Now one year has passed and even if your body and soul has not been removed from all these damages, we don't let you go.
We are with you and don't allow the work you have started for making your life, becomes your whole life and makes you old earlier.
What I have learned…
Fahimeh Khorasani:
Here I want to recall the first days of my work in Shanbe. Mr Jamili had given me some explanations about brand and advertisement page through a phone call and I was going to become familiar with this field; to be honest, I was totally unfamiliar with branding space!
I was graduated in literature and knew literary texts well. Also I did translating but branding and marketing were unknown to me.
I can say that what caused me to work on this page was translation but after a while, I understood that my job in Shanbe wasn't just translation, because translation has a direct relation with correct search and you can't do this without knowing branding and advertisement.
Thus I tried to study more in this field, but I should say in the way of becoming familiar with the science of branding, I bothered Mr. Jamili so much!
He spent so much time on getting me familiar with this field and I should thank him. Shanbe Weekly Magazine has been an opportunity for me to maximize my knowledge in the fields related to marketing and branding and I'm eagerly waiting for your comments, recommendations and criticisms.
There are things that I don't know!
Bahareh Baeedi:
One. More than one year has passed from the time when Reza talked to me about the idea of a weekly newspaper for Iranian businesses and later he proposed me a page with the name of brand story.
Writing about domestic and foreign startups, the story of people who tried to create new ideas and some Iranian brands that are launched for one hundred years, makes people good.
Two. Now that I have 200-word tribune, I should write about journalism.
Three. Shanbe is one years old and it has a bright future. It hasn't been agreed yet whether it is a startup in service of startups or not.
There is a long way to become a brand, but I should say that it has acted more than well and now it has grown up.
I remember weeks when I said "I can write brand story" and I thought there was no more ideas left, but Shanbeh is so dynamic and the world of brands is so limitless that there are always things that I don't know.