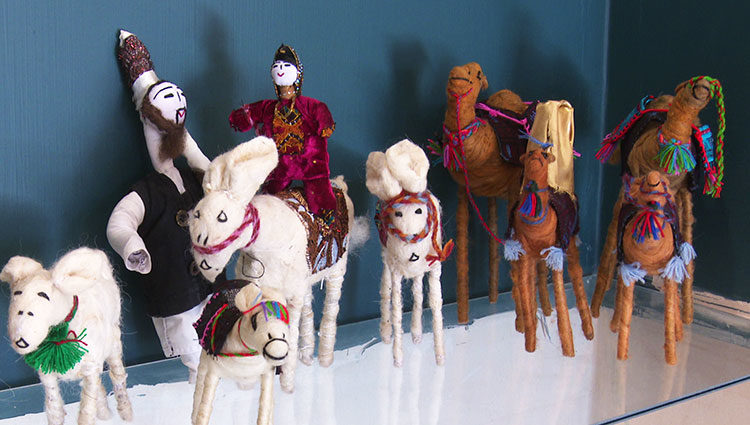 When dolls save people's lives
Tajmir is here! A village in Birjand located in South Khorasan; it is several kilometers far from a tourism village of Makhunik and 80 kilometers from Afghanistan border.
Internet doesn't exist in this place. Local people wear clothes from ancient era. Their eyes shine so much.
Tajmir has been forgotten for many years. Lack of water became prevalent in this village and their agriculture was ruined.
The village became a desert land with crowded households under financial pressure. Also consider prejudices and special characteristics of each area.
But after a while doll making became revived in this village and after years a special website is launched for selling these dolls and villagers have gained significant income.
Reviving a native art for gaining income
But what should be done in this remote land?! This question came to Ameneh's mind when she was in this village where women are not allowed to talk to her.
They don't even call them with their first name and they are called with the name of their husband and children.
But in this ancient land, ancient assets are hidden; assets that could lead to money making and change Tajmiris' lives:
"we thought about reviving the ancient custom of doll making for children for the first time in Iran; dolls that were toys of those days."
She made her decision and began working. "We made dolls with little pieces of cloth. In fact we asked native women to make their old dolls and we held Native Dolls Festival with the help of cultural heritage.
400 kinds of dolls were provided in this festival and at last the oldest version of doll was identified. These dolls wear the clothes of local people.
Thus it revives the type of wearing of ancient people in this area; including women and men."
Now the women of Tajmir that has only 80 households, make 30 kinds of dolls; from humans to domestic animals present in their lives like camel, goat, donkey and …
"Making the dolls of these animals takes about 20 minutes and we buy each up to 5000 tomans. We have dolls that take 40 minutes to make them and we pay 10000 tomans for each."
Even there are families in which children make dolls and make money. This is important because this area has warm and dry weather therefore there are less opportunities to make money in other ways and women have a vital role in making dolls which has contributed to the status of women in a village society.
The income of ordinary families from doll making is about between 300.000 to one million tomans per month.
"We buy their dolls and sell them in stores in Birjand, Mashhad and Tehran. We sometimes buy 1000 dolls per month. We started with one woman and now 45 women cooperate with us."
Male doll makers
Their business covers 38 villages and about 270 people in production of medical plants, packaging, rugs and doll making and … cooperate with Ameneh and her team.
Dolls of South Khorasan are recorded in national heritage in 1391 and the culture and economy of the village is changed.
Those girls that weren't allowed to stay at the door of their houses now give lecture in festivals and the youngest girl who makes dolls is 10 years old.
At first men didn't allow their wives to make dolls but when they saw the economic result of this, they changed their minds and now they make dolls themselves too.
"In Tajmir we plant trees to make culture, but we give these trees only to men whose wives make dolls and in this way we make men support their wives. Now when they want to get trees, they introduce themselves with the name of their wives."
Ameneh works through one of self credit funds so that locals get involved more and United Nations also supports her in some ways.
These dolls are made with the help of natural resource department. "We want to create a job to be the substitutions of animal husbandry, because the nature of this place isn't suitable for animal husbandry. It is important that doll making meet the initial needs of villagers."
Doll incomes
When it is near nowruz, in Esfand, we receive many orders for dolls and our income reaches one million per month which is a significant figure for villagers.
This helps the economy of households and contributes to social growth of locals. Ameneh says:
"when I went there for the first time I didn't even have the permission to have my cell phone no to take a photo or video from their women and girls but these people in Mordad 1395 came to a program in National TV with me.
While locals haven't gone to the capital of their own city. These issues and Tajmir's proximity to Makhunik has caused many tourists to come to this village and locals communicate with them so easily and take pictures and talk about stories of the village.
These positive happenings have taken place over time and took 4 years. The infrastructure of this change of social structure and collective growth was important to women based on economic growth and involvement because it has made them a dynamic and effective elements; because women aren't consumers anymore; they actually change their lifestyle."
Online sale helps Tajmir
Now 80 households in Tajmir, some of which are consisted of 12 people, make living through doll making.
"We didn't sell the first year because the dolls were unknown and didn't have national registration.
After a while when the dolls were nationally registered, we participated in fairs to introduce them. But the fee of participation in these places and rent of exhibition stands wasn't affordable.
Therefore, we decided to introduce these dolls by launching a website and a channel in Telegram. We have sold more than 100 million tomans through fairs and orders and also trough site.
We sold about 10 million tomans through www.dotouk.ir. Now customers visit our site to submit their orders and we send dolls for them.
Also we sell dolls through other online stores. For example Kafshdoozak in Tehran."
See related article from here.