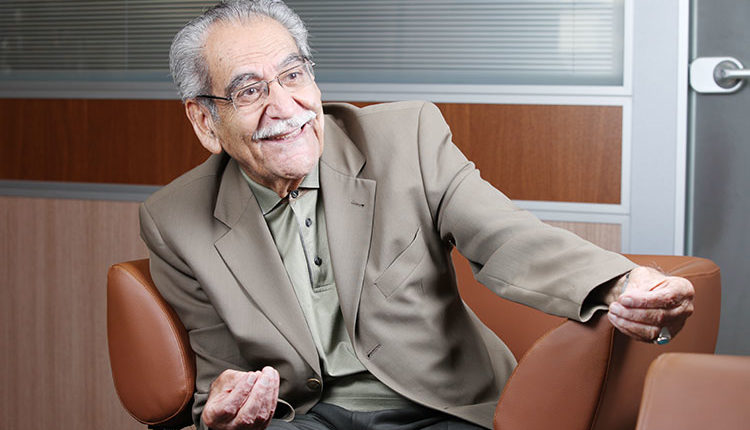 Creator of Mahram Sauce; the man of entrepreneurial pains passed away
Shahrokh Zahiri, founder of Mahram Sauce Factory, passed away in Thursday, 22th of Farvardin 1398 at the age of 89
ex member of board of directors and delegates of Tehran chamber of commerce and one of the leaders of Iran food industry, passed away in Thursday, 22th of Farvardin 1398 at the age of 89.
On 27th Shahrivar 1395 the picture of this prominent and famous entrepreneur was printed on the cover page of Shanbe Magazine in order to introduce big Iranian entrepreneurs and transfer experience of first generation of entrepreneurs to startup youth.
We met each other at Tehran chamber of commerce in Shahrivar 1395. At a room where there were many acknowledgements, I met a man from first generation of entrepreneurs in Iran. He was from Malayer and he was 86 at that time.
He wore a suit from Boss brand. His long life had made him the contemporary history calendar of entrepreneurship; he analyzed and explained social and political relations. He was stylish and elegant and communicate very well.
Zahiri was the old man of food industry. He was an Oxford for not making mistakes; a reference to guide and promote youth to work, try hard, hope and not being afraid. Zahiri hadn't lost his hope even in the darkest years of his life.
Even when they took Mahram from him. Even when he was not allowed to talk about this. Then he talked about Mahram story and about bypassing sanctions during Rafsanjani presidency and exporting Mahram Sauce to LA stores.
When he signed his entrepreneurial story book for me, he said: this isn't just a story, there are many unsaid pains in this book. Entrepreneurial pains. Now Shahrokh Zahiri is gone; a character who faced both praise and criticisms at his time. But he would always be one of Iranian founders and entrepreneurs.
See this related post carefully.