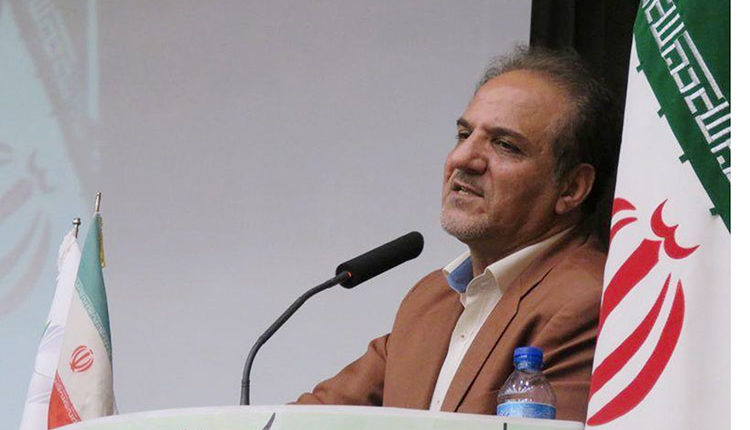 Startups can be the shortcut of sustainable development
Addressing online capacities especially startups and the function they can have in suitable distribution of assets, employment, restoration of arts and native assets and fair use of workforce is the topic of Shanbe discussion with Naser Zargar
Addressing online capacities especially startups and the function they can have in suitable distribution of assets, employment, restoration of arts and native assets and fair use of workforce, including men and women, is the topic of Shanbe discussion with Naser Zargar.
Vice President of Investment talks about the measures they made to take advantage of online capacities for wealth creation in villages and that which capacities in those parts can be the infrastructure for producing different applications, startups and etc.
He also talks about their cooperation with online store and their readiness for cooperating with young people from different parts of the country to buy knowledge-based products and software produced for restoration of Iran cultural and native assets.
Population of villages in Iran has become consumers and lack of natural sources like water has become a reason that villages are ruined and villagers have become marginalized poor people beside cities. What measures have you made in this regard?
At first sight we should notice that in Iran we are facing with inappropriate population distribution. In a way that 80 percent of Iran population is placed in 50 percent of this territory and 20 percent of the population is in 50 percent of south and south east parts of Iran.
The point is that we have high seas in south and south east part of the country that should have been the sources of development but unfortunately since now this wealth has not been used and the insight towards sea has been an issue of security.
While Iran could have at least 5 to 6 global city like Dubai; from KhorramShahr to Chabahar. Thus people in these areas, especially villagers are the poorest people of Iran.
Neglecting border areas and focusing on the capital cities has led to inappropriate move of population. But if these areas boom, up to 15 million people will move to these areas. Also the population growth rate at the metropolitan edge is about 4.6%.
In capitals of cities it has been 4/3% and in border of cities it has been 3%. It is interesting that population growth rate in Iran villages is under 7%.
Population growth rate means population movement and this means unbalanced and unequal distribution of opportunities and resources.
The result is that we have 11 million marginalized people in the country. Dispersion of this rural community covers up to 70 percent of Iran.
But from 1335 up to now more than 34000 villages have been evacuated; that is from 98000 villages, we have only 62000 villages.
Based on Parliament Research Center report, about nine decks of Iran rural community are in unsafe food zone. Moreover this population doesn't receive necessary training.
They don't have vast options and even they don't have access to technical and professional centers.
thus we came to this conclusion that we should provide technology to all parts of this country; that is, agricultural process, the process of rural products and sales and packaging should be formed in this rural community.
This has happened in industrial countries and rural community has grown side by side with urban community. They don't receive monthly payments from organizations or look for subsidies.
Rural community in industrial countries manages the whole country and plays the major role in wealth creation. But in Iran, industrial revolution became involved with the city not the rural community.
Villagers buy fertilizers, seeds and agriculture equipment from city and the network of sales, packaging and labs belongs to urban community and the benefits of production process doesn't go back to rural community. This is the reason why people leave villages and migrate to cities.
Tell us about the measures made in order to solve this problem.
Life quality, human development, environment and new technology should be taken into consideration for unsustainable development.
We have tried to bring back value chain into villages during these four years. We took a consulting company for facilitation and empowerment with expertise in sociology and psychology to rural community.
This company counts assets of village, defines the topic of activity along with native community, launches a company and uses native force to be present in the faculty of these companies.
Also they make use of trusted forces of village and social capital of village. Right now more than 3000 companies are launching in the country.
For example in South Khorasan our consulting company has gathered 200 barberry gardener and opened a company and launched a factory for packaging and providing barberry to the market which is operated by local community.
These measures show the traditional aspects. Shanbe wants to know about the advantage you took from the area of online space and new technology?
We have involved knowledge-based companies with economy of villages. We give them facilities so that they give help in human resource management, energy resource management and production management to local community.
Another measure we have considered to return back wealth and resources to villages is to equip these communities with new tools.
Before election, less than thousand villages had internet and during last four years, more than 25000 villages now have high speed internet. We have used internet for areas like virtual health education and trade area and during last two years we have activated virtual trade sections and a big store named DigiRusta is formed.
Also we are launching village news agency. Information of more than 30.000 villages is gathered and we watch the market of all these areas.
Another tool is communication with NGOs, because we believe that the government shouldn't create a big and long organization and name it a development organization.
In fact it should leave the power to people and private section that is NGOs in village and deprived areas; in other words, through NGOs and with use of public resources and accumulation of people's capital, it removes the lack of equitable balance of wealth.
NGOs launched before, worked in parallel with the government and they didn't enter economic and software discussions of villages much but in meeting we had with them, they were to move towards rural development.
Internet is a place for sale; what interaction do you have with Iran online stores for selling rural community products and how much do you believe that startups can be a powerful arm for removing poverty in faraway areas of the country?
We had meetings with Avval Market internet store and we are to work with them in selling handicrafts and agricultural products of rural community.
Also Handicraft Organization of the country has created more than 200 sites for selling handicraft. We are negotiating with Handicraft and Agriculture Organization and want to create rural villages in capital cities so that all of their rural capacities be introduced.
We had negotiations with physical education organization so that information about local games and native customs become registered, cultural principles and publication in this field become active and native cultures become revived.
Even in the field of local games, we concluded that a part of them can become computer games. For example, musical diversity, local customs, local wearing and … should be recorded and even become prepared in the format of applications for tourism.
All these measures can help the economy of villages. Even traditional medicine and treatment methods in Iran villages can become a treatment resource and an application.
Iranian architecture has this capacity as well. These are native and cultural assets of Iran and new technology and online businesses can be powerful tools for revival, sale and money making.
Produced applications can be shown in fairs and meetings with the presence of ambassadors of other countries so that Iran's native assets become known and it provides infrastructure for attracting domestic and foreign tourists.
For example in one of domestic fairs more than 75 musical groups from different parts of Iran were present which are considered a big capacity for foreign tourist attraction.
But because their information is not recorded and there is no way for their presence in the markets, they are going to be forgotten.
Thus one of the topics about which we have talked with one of online businesses, is making applications of these capacities and everyone who produces such software, we would buy his/her products.
Like Avval Market, DigiRusta in the north or domestic tourism businesses in Golestan are the buyers of such software. We have negotiated with universities like Sharif University of Technology so that this software is produced in several languages and even we provide an office outside Iran to introduce these products and sell them.
There should be a department for each art major and each cultural part and record all details of each major. This plan has the capacity to hire up to 500 domestic people.
For example, a startup works on carpet, another startup works on needlework and another on Iranian rugs.
In fact the government has come to this conclusion that paying attention to internal assets and technological approach toward these assets can have positive effects on the economy of villages and low-income areas which is a barrier for migration and marginalization and exposing into social harm.
You might be interested in reading this related topic.