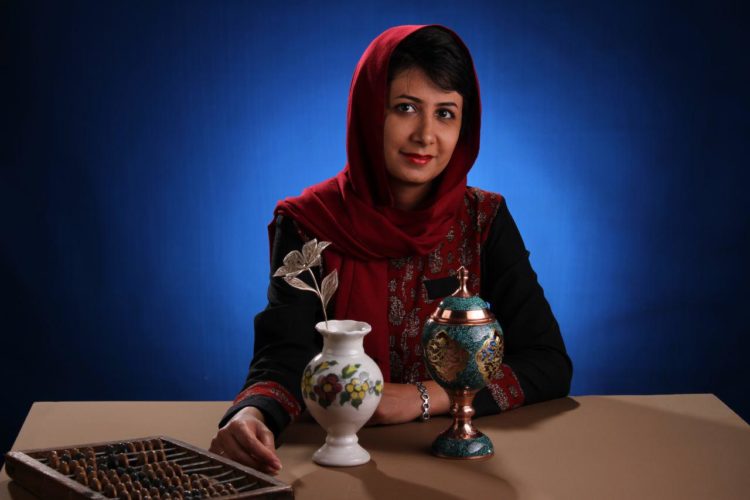 A enamel seller who lives in a mansion
Aranick office is placed there which sells different handicrafts. This is the business of a girl named Narges Shayegh
Aranick office is placed there which sells different handicrafts. This is the business of a girl named Narges Shayegh. We had a talk with her.
When you go to Ferdowsi Avenue and Kooshk Street, you face many nostalgic names. The Kooshk mansion is located there which was the home of Shaghaghi Family and now it becomes an art house which is under the supervision of Cultural Heritage Administration.
When you were a child, who did you want to become?
I always wanted to be a businesswoman and have a big business.
You wanted to be a businesswoman but you entered art world?
I started with music and playing instruments. I studied art at the university. My father studied psychology in 1348 and he always wanted me to become a doctor. But I was interested in economic issues since childhood. I never wanted to be a clerk and I didn't want to sit on chair and do just paperwork.
Is it probable that one day you go abroad and go there?
I never go abroad and I love my job and my family. This job is my identity. I didn't get this job so easily and I don't want to lose it.
What was your inspiration?
The story of successful people. For example, I met Omidvar brothers and heard their slogan which is "everybody is different, everybody is relative". I like it and asked them to let me use their slogan in Aranick as well. They accepted.
What would make you disappointed?
Economic problems of people because our products are not basic need of people thus they should have enough money to buy handicrafts. Our team is hopeful that Iran can transact with other countries and enter global market.
One of its results is that tourists would enter Iran. Tourists are most important buyers of Iranian handicrafts and if we have good banking infrastructure and delivery, we can sell our products online.
Yes, we have traveled to 90 percent of the areas of Iran since now and we will go to Kurdistan and uramanat next week.