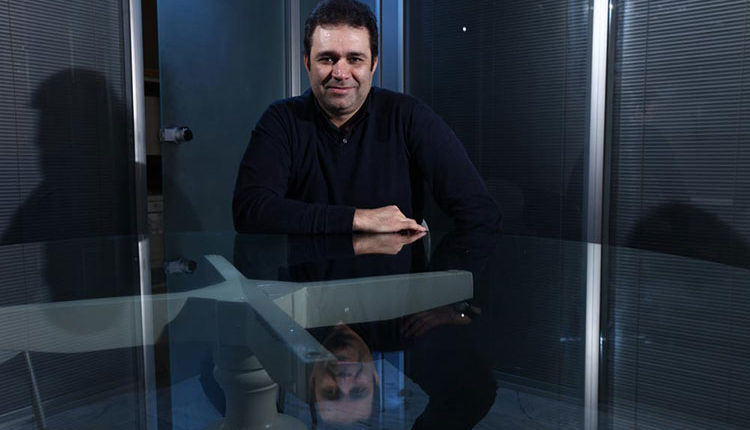 Only 30% Sale of Shares
Interview with Sam Madanpoor, founder of Esam
Sam MadanPoor is 39 years old now. He studied at Kharazmi high school. His father was an architect and his mother had M.A. degree. But Sam didn't like studying and he was only interested in sport, math and physics.
He attended computer classes and was interested in repairing computers. His parents sent him to Canada and he studied computer there. After graduation, he returned Iran and have lived here for two years. Then he went to USA.
When he was in USA, he repaired laptops and sold them in online sites like Divar. He earned money in this way. He met his customers in Metro, streets and other public places.
After a while, he decided to do this job in ebay site. From that time, laptops had been sent to me and after being repaired, they had been sent to the customers.
He earned 130,000 dollars during a year. But there was a time when the price of new laptops was not different from that of repaired ones. At that time, he decided to go to Iran.
Esam is born in Iran
When he came to Iran, he wanted to do business. His sister recommended that he launch a business like ebay. It was a good idea but there were problems like internet, delivery and etc.
However, he talked to several programming companies. They wanted large amount of money and they were thinking of selling their own platform.
During this time, Sam met Amin Shokuhi. They talked to each other and decided to design their program based on ebay and with reverse engineering. It took three years to prepare the program. Then in 1390 they provide a site named "Esam".
The beginning
we began with three persons: Sam, a programmer and an accountant. "In the first day, we sold a pantyhose. An email was received that the transaction is done. We didn't know who the buyer and who the seller was and even where the money had gone.
People should trust us and thus we allowed them to keep the purchased product and try it within 24 hours and then pay the price."
Figures and statistics about Isam
Sam said that the growth in the second year was four times more than the first year. Sam provided some details: "in the first six month of the year 1393, we got 70 million Tomans from selling prayer beads. We also earned 3/5 billion Tomans from selling collectible stamps and banknotes."
Place and time is not a barrier in this job. For example customer can be in Khorasan and seller in Khoozestan. More than thousand categories and subcategories are provided in this store.
Right now they have 260,000 active users. Every day more than 50,000 people visit this site and its rating is 230 to 236.
Employment
Esam as a big store with high security is a trusted environment that has employed many people. Currently more than 30 persons work here and more than 30,000 persons have a store in Esam. The average age is 30. Employment in such environment is limitless. 15% of sellers are woman and about 10,000 women wear are offered.
Esam: an Iranian ebay
Sam MadanPoor is the founder of Esam. In fact he got the idea from a foreign site named ebay but he localized it according to Iranian culture. The cultural differences have taken into account therefore we can use the term "founder of Esam".
In Iran, people pay attention to the security of sites. Thus, this site interacts with FATA so that security is preserved in the business.
Esam working style
How the earning is calculated? Sam says: "the percent is determined based on the price of a good. It is between 5 to 7 percent. For example if a good is 10 million Tomans, 1.5% which equals 140.000 Tomans belongs to Esam.
The higher the price, our percent will decrease. When a good is sold, the money is deposited in the company bank account and the system sends an email to the seller automatically and notifies that the good is sold.
After sending, the receipt should be entered in the system. After the buyer received the good, he/she examines it and verifies the good via SMS or our website. After verification, the money is deposited to the seller."
Some goods are not allowed to be sold in this site for example simcards, mobiles without packaging, or some goods such as guns.
Social-economic responsibility
Young people who are 25 to 35 years old use online shopping and therefore these online sites have social responsibilities as well. For example Esam has put billboards about drought and has considered other social plans such as cultural and religious events. Sam said that their site contributes to the security of women, traffic, air pollution, employment and reduction of paper consumption.
Disappointed? Never
Sam says that he has never been disappointed. He says: "we work with internet and post is very important in our business. Despite of current problems in these two areas in Iran, I haven't been disappointed.
The Esams buy from Esam
Sam has worn a blue pullover which reminds me of Steve Jobs and Mark Zuckerberg. Sam says that his job requires him to be ordinary. It is interesting that people who work in Esam buy their good from Esam.
A world with Esam
Esam is the localized ebay. This is something that Sam accepts. But what would Sam say to CEO of ebay if he meets him? "I say thank you for making this site so that we can make a similar site in our country to provide services to our people." Now what does Sam think about when ebay enters Iran after lifting of sanctions?
He says: "we are not afraid. Ebay is very big. It takes many years for them to localize their services. On the other hand, they should have workforce and it is better for them to work with us.
Competitors should have the opportunity to enter the market but I think government should support us." Sam thinks of selling Esam to ebay and says: "the possibility is just 30%".