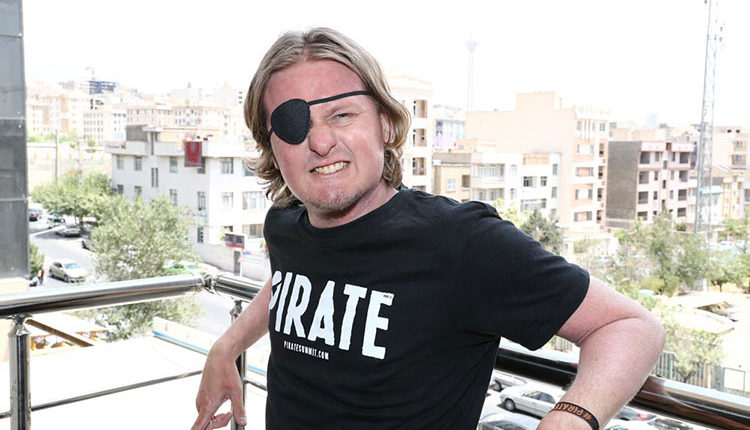 Pirates in Tehran
Here we talk to Uldis Leiterts who believes that young startups and those who had brilliant ideas can act as pirates and steal the market from big and famous companies
He had come to Iran to visit Iranian startups and select among them so that these startups participate in Pirate summit event which is held every year in Koln.
Tell us about yourself and the works you've done in the field of entrepreneurship.
I'm a series entrepreneur and have had several startups. Right now I'm the global organizer of "Pirate summit" which is an international startup program. I'm the founder and CEO of "Fragment". Before than I worked in a startup called "Infogram" which is for making and sharing infographic.
What does Pirate summit exactly do?
It is a conference about technology which is held every year in Koln. The goal is to gather together those who are active in different fields of entrepreneurship. This event is held in an unusual place.
It is held between two train lines in Koln. People come and see art works, artists and inventors. There are shows such as statues on fire or competition of robots. We invite innovative people and investors. The relations between those who participate are strong and stable.
Why do you hold Pirate summit in such a place?
We hold this event between two train lines which are working. Every 10 minutes a train passes and whistle and we whistle too.
Apart from this weird place, what are other characteristics of this event?
People who participate in this event are valuable. This is a 3-day program which provides good and exciting experience. All those people are selected and no one attend there without invitation.
We invite people because we have limited space. Thus each year we try to improve the quality rather than the number of people invited.
Where are financial sources of Pirate summit supplied from?
One the ways to earn money is selling tickets. In last days before this event, the tickets are sold for 300 euros. But in fact we don't get any profit from these tickets. We can not supply the costs only by selling ticket.
So why do you hold this event?
This event is managed by entrepreneurs and for entrepreneurs. We want to make a cultural change in startup ecosystem and entrepreneurship.
How many times have you come to Iran?
This is my second time in relation to Pirate summit. Last year this event was held in Avatech and now it is held in FinStars.
How many times have you come to Iran in general and when was the first time?
In general seven times. First time I came to Iran for Pirate summit last year.
Has the entrepreneurship environment changed since the first time you came to Iran?
The number of startups in Iran which are knowledge-based is more than other parts of the world. But Iranian entrepreneurs don't have global view and there are a few people who want to work internationally. There are many startups that do experimental works like Foodchi; these startups are likely to fail.
Is it normal that some startups are the copies of foreign samples?
A part of it is normal for ecosystem. But I think Iranian entrepreneurs are so innovative that can make something brand new.
What are the special characteristics of Iranian people in the field of startups?
They are very smart in terms of technology. They are eager to get new information and use them. Those companies which are copies of foreign samples are not merely copies. In fact they have made those foreign ideas domestic.
Name some big and successful startups in Iran.
Cafebazar. I think those startups in the field of app sharing can grow well. Startups like Snap and Tap30 and also Donit have bright future as well.
Tell us the story of going to Damavand and the things that happened there.
I love mountains. I always wanted to go to Damavand. I gathered people from technology related companies together to conquer Mount Damavand. We went to the altitude of 4100 meters but I failed to conquer it.
Here we talk to Uldis Leiterts who believes that young startups and those who had brilliant ideas can act as pirates and steal the market from big and famous companies. He had come to Iran to visit Iranian startups and select among them so that these startups participate in Pirate summit event which is held every year in Koln.
Pirate summit comes from the idea which is based on a proverb: "when you can be a pirate, why do you become a member of the navy?"
What is the relation between entrepreneurship and Piracy?
Entrepreneurs go to places where no one had been before. Pirates do the same thing.
Do you think that Taskulu which won the first place in Pirate summit would grow and become successful in the future?
I think this is one of the startups that can become the number one Iranian startup and it has a smart team. I think it can compete at international level and it is very useful for big companies which need these programs.
Have you even been to cities other than Tehran?
Yes, I went to Shiraz, Qom, Kashan, Yazd, and Abyaneh.
What are your favorite foods?
I'm vegetarian and I love all the veg foods.
Which city of Iran is interesting for you and why?
Tehran. It is so alive and it is growing.
Are there startup publications in Germany?
There is a successful monthly magazine in Baltic and a site called "Techrasa" in which the situation of entrepreneurs is written in the field of Baltic. But there are a few publications in the field of startup.
It is good that a person other than entrepreneurs wants to read your magazine.
Yes. We have a weekly magazine and it is supposed to become a newspaper.I think government should teach the student to launch a business after graduation rather than being employed in a company. When you want to make a company, you should have big ideas and don't be ashamed.
What are the elements of a startup in your opinion?
Startup is a financial method in general. These kinds of companies are knowledge-based and grow based on their knowledge. As long as you grow, it doesn't matter what you're offering.
As you said before, when the number of employers is limited we can not consider a company as a startup?
It doesn't matter. Market size is not an important thing on its own, but the company should have this vision that during 5 to 7 years, it can reach to 150 million dollar revenue in each year.
Isn't it considered a startup if it fails to have this amount of income?
We call it an internet company. But I think quick and big growth is important for an entrepreneurship company. Startup is a company based on technology and it has a big potential to grow.
Most of the time, entrepreneurship companies have this international vision but they don't work at international level. Because they need to employ large number of people.
Do you have an English version too?
Yes, we have an interview with four entrepreneurs every week and its translation is published on Shanbemag site. You can read your conversation in English as well.
Embrace failure
A large number of Iranian companies focus only on Iran and they can't work outside of Iran. Some people don't want to work for foreign customers and some foreign companies think that Iranian ideas are the domesticated version of foreign startups.
These companies say some companies and people launch these startups and we can invest on next startups that we launch, because probably many of these startups would fade away.
Foreigners forecast that next generation of Iran startups would be better. The time that such a change needs depends on the culture of people and the country in relation to failure.
Many countries around the world have positive view towards failure because it is a part of improvement. For example in Finland, they have a national day for failure. Failure is essential for success.
After we accept that failure is an essential and it becomes a part of our culture, we should learn how to talk about our failure. Iran startup ecosystem should be encouraged to start again after failure.
If it doesn't happen, startups won't survive for sure. But it takes about ten years that the first generation of Iran startups becomes substituted by the second generation.