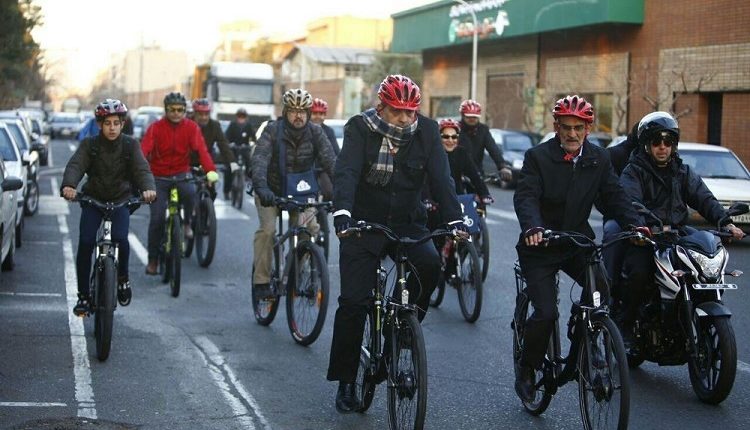 Bike sharing program to develop in Tehran: mayor
Bicycle sharing program will be developed in the capital city of Tehran in a bid to reduce air pollution, Tehran Mayor Pirouz Hanachi said on Tuesday.
Developing the bike sharing program as well as public transportation would play a key role in cutting air pollution as well as diseases [linked to physical inactivity] in the capital, IRNA news agency quoted Hanachi as saying. 
He made the remarks while cycling from home to work accompanied by his deputies and some journalists. Since he took office as the mayor on December 2 he has taken part in the "car-free Tuesdays" campaign and either cycle to work or use public transport. 
Car-free Tuesdays campaign kicked off in 2016 by Mohammad Bakhtiari, majored in architecture and a member of a local NGO and it aimed to decrease the number of private cars in the cities hence mitigate air pollution.
Hanachi also said that the municipality is negotiating with bicycle manufacturing companies as well as knowledge-based companies to try to reduce the costs of electric bikes.
The key measure which should be taken to slash to costs of electric bikes is domestic production of them, he suggested, adding that electric bikes and motorcycles should replace carbureted vehicles to tackle air pollution.
He also noted that instead of granting subsidies to electric bikes the municipality is planning on developing bike sharing programs. 
In December 2018 new bikes based on Internet of Things (IoT) were placed for the first time into stations for use in Tehran. Some 300 bikes have been inaugurated in district 2 of the capital. 
Bike-sharing scheme was first introduced by the Iranian startup Bdood in August 2018 in an attempt to address air pollution in the metropolis of Tehran.  
Source: TEHRAN TIMES