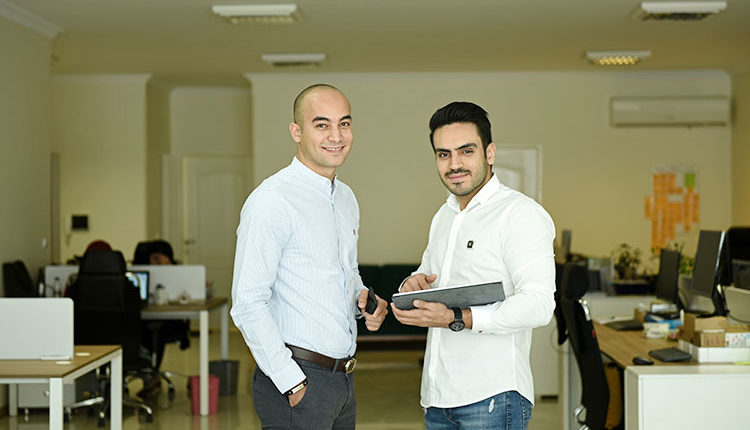 100 billion transactions in one startup + The Second Part
Founders of Adro talk about information from Online ads market, importance of content marketing, efficient methods of advertising for new startups, the future of content based ads and …
Before Hamshahri and the like pay attention to the capacities of online space and agree that they should be present in such space, businesses like Divar had examined and entered this space and offline businesses can't confront them.
please read the first part from here.
Because without understanding the online concept we can't gain a share from this field
You work with many ads agencies and you have exciting money making model; haven't the agencies wanted to be introduced as an exchange?
Ali: there were agencies who wanted to play such a role but this business is so difficult and has many challenges that they prefer to do their former work and use Adro as their marketplace.
You started your activity with companies that were hard competitors; what were the problems when you wanted to contact them?
There was resistance at first and we were told that we wanted to give them an impression that they could receive it directly. In fact they considered our impression as second hand. But after a while they found out about the added value of this system and they cooperated.
What added value does this system have for ad networks?
The biggest added value that Adro creates for agencies and ad networks, is that technology writes and site or application receives and when it has a big campaign and wants to send and share it, it can make its network as big as all networks connected to exchange within several minutes and this is the biggest added value that they receive.
Thus they can buy as much as traffic their customers want without making any contract with other companies. This means access to all big networks we have.
Does Adro share customers of agencies and ad networks with each other?
Masoud: no. we share the traffic for the customers of agencies; that is the customer doesn't go from one agency to another.
This means that the customer sits in one agency but gets the traffic of other networks; both internal and external networks.
Ali: another thing that Adro does is that in Iran no ad-network has access to foreign exchanger and foreign traffic. Adro has connected this ecosystem that is connected in Iran, outside of Iran. Thus, the traffic of one foreign site or application can be gained with rials.
Masoud: we sold the first load of traffic of Iran to foreign agencies and we received dollars and we increase it this year.
Ali: in fact foreign brands can't cooperate with Iran domestic agencies thus their agencies work and what Adro does is to provide service to foreign agencies so that they operate their campaigns in Iran.
One of the topics in the world of advertisement is content marketing; where does this stand in relation to its effect on growth of businesses?
Ali:the biggest characteristic of content marketing is how to introduce content to the reader. We in Adro see content marketing in the form of native advertisement and we don't see anything outside this.
This trend is growing fast right now. Because all people are tired of seeing ad banners that are flashing and all want to see real content. Content marketing would have a high growth next year and right now 30 percent of marketing is related to content marketing.
Startups now pay much attention to content marketing and some follow such a request by launching internet magazine. What is the role of content marketing in startups?
Ali:I think being present in click and video advertisement has high costs for startups and marketing through content has the least cost. On the other hand because startups usually are formed with a new idea, the best way for introducing this idea is use of content production and content marketing.
Masoud: right now in Iran we see much text content but the world is looking for video content. Even we predict that within two or three years, 80 percent of internet content would be provided in the form of video because users don't want to read texts.
But this isn't of interest in Iran because it has high costs. Generally content can be a way for accelerating the success of startups.
When we talk about online ads campaign, what we are exactly talk about and which figures can we imagine for it?
Ali: based on the size of advertiser or volume of campaign, the costs are different. For example, if the campaign is related to the promotion of Yalda and is provided on behalf of a company like DigiKala, it would have a big financial size.
For example, it can be from one million tomans for one month to one billion tomans. based on our information, one of the middle-sized startups has spent about 100 million tomans for a month for its Yalda campaign.
Masoud: some of businesses need advertisement to survive; like Divar and Sheypoor.
Those like Sheypoor have bold presence in offline world as well. How is your evaluation about this presence?
Ali: I think capturing users that aren't present on internet is a necessity for an internet business but the biggest thing is that they get internet users first.
Internet businesses that focused on internet users from the beginning, have been successful more than offline businesses that have tried to attract offline space users first in spite of internet nature.
Masoud:the kind of advertisement shows the nature of business. When a business is of online nature, but the owner refers to offline space for advertisement, in fact he has stepped into the wrong path.
Ali: when we advertise for offline space users and put them our audience, we should pay the cost of them becoming the users of internet but advertisement in online space is for achieving and attracting the attention of users towards our business and this method has lower costs for startups.
What do you recommend to new startups; which method do you recommend them to enter advertisement space?
Masoud: at first it's better that each startup follows its goals. Because most advertising companies want to consider similar budget and methods for other companies because there isn't any company in advertisement like them while they may not be in accordance with their goals. This lead to a wrong analysis and thus they can grow and they waste their money.
Ali: the point is that we can't provide a unique content to different kinds of users. In fact content production and marketing base isn't a reason for success, and the stance of content and production is based on the taste of audience.
To what extent the content topic can be the infrastructure for launching startup?
Ali: the biggest companies that now spend much money for advertisement, have the problem of content. Thus if startups are launched for producing specific content for companies, they can be successful.
Let's get back to your cooperation with advertisement agencies outside Iran; what programs do you have?
Ali: one the most important programs of Adro is to sell domestic traffic to outside Iran. This was done by Adro first. We brought Iran traffic in many foreign agencies, ad networks and exchanging for the first time.
Including countries in Europe and Middle East. We have considered rules for them within which they provide their advertisement. Now that Iran traffic is available for them, this field is growing.
What future do you consider for Adro?
Masoud: 10 percent of digital advertisement in Iran is only programmatic still that is there isn't any manual involvement in it. Our goal is that we make up to 50 percent of online ads programmatic within 3 years.
Ali: I can say that all Adro does is to move digital advertisement towards being programmatic.
Once you said that foreign investor had mentioned that in order to accept your project, for example Ali Jafari hadn't have many interviews in Iran press and they have paid attention to your personal branding. How does is affect investment attraction and how did you persuade the investor at last?
Ali: unfortunately this is the situation in Iran. One of my own criticisms to Iranian investors is that they spend on startups that are more showing off' that is they invest on people who have become famous inside and outside Iran.
We could persuade the investor using the map and business model we had.
Say something about the figures of investments you have attracted so far?
We are in the third round of capital attraction; in round one and two, we attracted less than one million dollars. But in third round, this figure has increased.
Lucky ones who quitted university
Ali Jafari and Masoud Khosravi are born in 1368 in Tehran. Ali and Masoud have quitted universities.
Ali and Masoud were studying industrial engineering and mechanic engineering respectively but after a while they pretended to quit studying and think about business ideas.
In 1388 they left university and don't regret it. Even they say that the technical officer of Adro was PHD student of software from Tehran University who has quitted his study and joined them. They are close friends for 15 years.
They have launched Adro and have equal shares in Adro. Ali went outside Iran and to countries like China and Malt.
He worked there for some time and entered the commercial b2b field and then entered E-commerce between Iran and Afghanistan.
After a while, he returned to Iran and provided marketing digital solutions to foreign traders who were mostly from Iran, Afghanistan and Emirates.
I was a foreigner, I couldn't work in Iran
Ali Jafari is a 28 year old man who sit beside me and talks about very knowledge-based business and he has suffered from 16-hour work per day.
Suffers that didn't stop him from his growth; "I'm not an Iranian and don't have Iranian degree, because my father is Afghan and my mother is Iranian.
In fact I was a foreigner who had the permission to study and couldn't work here. I didn't want to continue my study."
Thus he went outside Iran. But Ali Jafari to whom Iran didn't give the opportunity to work, has come back to Iran and employed 21 people.
Ali believes that Iran is good for entrepreneurship because one can launch a startup from the beginning and make it grow.
But he also says that his heart is hurt like many foreigners who are upset because of Iranians' behavior towards them.
I have 12 official patents
"I have seen few foreigners in Iran who had done something scientific but I had 12 patents during my study. Especially people don't have a positive insight towards Afghans.
But there are many Afghans in Iran or outside Iran who have high level of knowledge and management but it takes a long time for Iranian people to change their insight towards these superior talents.
In Afghanistan, startup ecosystem is like startup ecosystem in Iran 10 years ago and I am very eager to help the startup community of Afghanistan to grow.
There is a good access and infrastructure there, but there isn't a high level of technology."
Ali also estimates the situation of Middle Asia countries for launching a startup is good but he believes that having knowledge about the culture and market of that country is important.
The best two-man team
Now Ali and Masoud has formed a two-man team. when they talk, they understand each other. At the beginning their work was similar to current businesses in the field of advertisement.
At that time and by consultation with Masoud, we decided to create an advertisement network which is more content-driven.
Thus our cooperation began with our ad-network. Thus after a while we decided to close my commercial company and Masoud left his job to work on ad-network we were looking for.
We were 20 years old. We weren't programmer or developer but by consulting with foreign consultants and using good technical force, we could design and develop whatever we wanted." These are said by Ali who seems to can speak better than Masoud.
Ali and Masoud have become non-separable after 15 years of friendship and Masoud says the only thing that may separate them is that Ali gets married and he laughs.
Ali says they work 12 hours a day. They used to work 16 hours a day. He says they have spent many hours getting consultation and studying in order to improve their business.
Because ad-exchange is an American business thus we have to get consultation a lot and study a lot in a country like Iran where there is no knowledge about it.