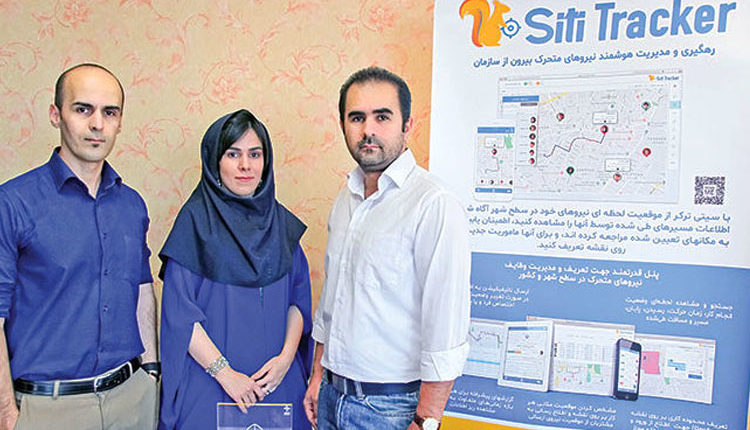 Siti Tracker is a solution for managing personnel
A product that helps businesses make the most of their data
Siti Tracker is an intelligent system that helps companies that have field and extracurricular members to manage them better and more intelligently.
Management of external personnel is difficult for businesses whose major part of the business process is done by these members. Seeing this challenge, Siti Tracker decided to offer a solution to this problem.
Siti Tracker is a family startup launched by Hassan Saneifar, Mehdi Saneifar and Roghaye Saneifar. We interviewd with Hassan Saneifar to find out more about startups.
He has several years of experience in the French startup ecosystem, and While returning to Iran, he and his brother and sister set up Siti Tracker.
"The idea of the Siti Tracker idea goes back to mid-2017. At the time, we were working in areas where we were dealing with companies that had field staff, support and services in place, and we saw that these companies had a serious problem managing their field forces.
Gradually we did more studies and found that there is a problem in all companies with urban field and logistics personnels and they have no solution to manage these staff optimally and with less resources.
So we thought we'd find a solution to this problem, and that's where the idea of City Tracker came in. We started in 2018 and launched the early version in 2018, and it's been about six months officially we are in the market.
Explain the process that is taking place in Siti Tracker?
Siti Tracker is an intelligent system that helps companies that have field and extracurricular members to manage them better and more intelligently. Siti Tracker's assistance to companies comes from a variety of perspectives.
One is defined as the interception of staff. So that company managers can see where the staff are in the city at a moment's notice, what route they took during the day, where they were stopping, and how much the stoppage was or what they should do per day.
Another aspect is the management of personnel duties. So there's a task manager that can be adapted to field personnel duties and managers can define task forces.
These tasks are distributed both manually and intelligently to personnel, and employee can see in their daily tasks the details of their work, its location, and so on.
Getting started, time to get to work, duration of work, and so on, are recorded and sent to managers.
The third module we recently added to Siti Tracker is also the optimization of the path that staff need to take throughout the day.
This feature offers the optimal route for forces to prioritize the places they should visit during the day so they can reduce their fuel consumption and stay less in traffic.
Of course, this route optimization is based on an algorithm that packages reach customers in a timely manner.
Is your product a combination of a device and an app, or is it only accessible through the app?
In fact, the main advantages is that it does not require hardware and only requires the mobile app to be deployed and we do the tracking through the software module we have developed.
This module goes beyond just specifying the position of the staff, it is the result of 5 months of research and development.
This module is able to maintain its performance and intercept personnel even when power is not connected to the Internet, or by removing the app from the phone, or by reducing the GPS signal
On the other hand, in order to optimize battery consumption, the module intelligently detects the individual's behavioral pattern and optimizes battery consumption.
Is Siti Tracker replacing other products that companies used to track their staff?
Traditionally, tracking devices have been on the market, but the point is that Tracker does not need hardware and companies no longer have to pay for hardware maintenance and charge.
It also provides companies with other features that do not exist in hardware-based solutions.
 How many companies and their subsidiaries have used Siti Tracker so far?
Introducing Siti Tracker to customers has begun since this year's Elecomp Fair, and since then about 100 organizations have been using it and about 400 users are tracking.
How much does it cost to use your services?
For the first 14 days the service is free and then based on 4 different plans they can use the services based on the number of users per month.
Our simplest plan starts from 25,000 Tomans per user per month to the third plan which is 45,000 Tomans per user per month.
Each plan is different based on the features it offers, and organizations can choose each plan according to their needs. If the number of users is more than 20 people per month, the price is agreed upon.
 What is your overall market volume?
Given that we have been studying the market for a long time, we have identified nine sectors that can form our target market, with a total market volume of  2,000 billion Tomans per year and a serviceable market volume of 1,000 billion Tomans per year.
Our primary goal is to earn 0.5 percent market share of 5.5 billion Toman annually.
 How much resistance was there to market acceptance?
Market behavior varies across sectors, depending on which product areas to offer. Some sections were more resistant, but some were highly welcomed.
Overall, out of every 10 users introduced to the app, 4 are installing and using the app.
How much was your initial capital?
We started working without accelerator and receiving capital from the investor and so far we have invested about 300 million Tomans and we are currently in the process of attracting capital and negotiating with the investors.
 What challenges did you face during this time?
Our main challenges relate to administrative issues such as company registration and social security because it is not specifically defined in the context of part-time and telework system.
On the other hand, it is a very long process in the way of attracting capital and this is challenging for us.