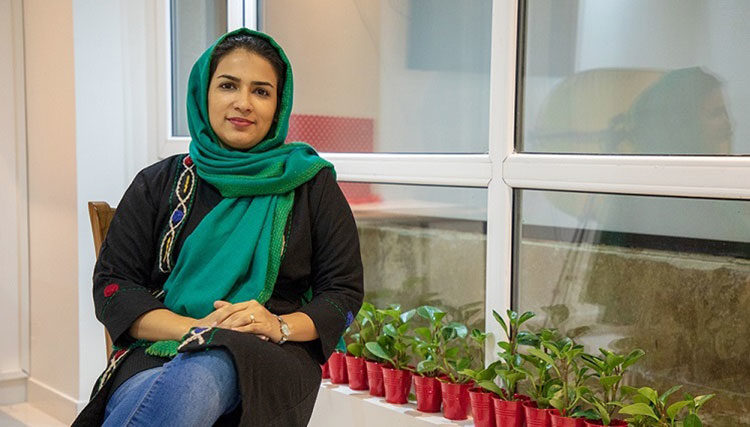 200,000 orders for foods per day
Tabassom Latifi has employed housewives and launches a startup,Mamanpaz, that delivers home foods to people who are not at home most of the time or don't want to cook
Tabassom Latifi has employed housewives and launches a startup,Mamanpaz, that delivers home foods to people who are not at home most of the time or don't want to cook.
Who are your testers? Are they food experts?
No, our team test foods. I and one of our members have attended a cooking course. Maybe we are not good cooks but we are expert in testing foods.
We have good information about foods in different parts of Iran and different tastes. We rate them from 1 to 5. 5 is excellent and 4 means good. If the food gets 4 or above, it will be accepted.
Each woman who is accepted, should be trained and get health card. Then an official visit her place so that its health be examined.
Did you have a customer who was not satisfied and returned the food?
It happened but we tried to satisfy them. Customers send their comments about our foods and others who visit our site can use these comments. There are good and bad comments sited. If comments about a food are too bad, we remove the food from menu.
Do you remove the food or fire the cook?
If a person has ten bad foods and all her foods become removed, we won't work with her any more.
How many mothers are working with you right now?
50 mothers.
How many members does your team have?
7 in technical team and about 16 in courier. We work with three taxi agencies as well. In general, we work with 80 persons directly.
We should consider indirect employment too. We work with many mothers some of whom are very active and we order them every day.
One of the benefits of your work is that it employs many low-income people; for example women who are the head of household. On the other hand revenue is important. How much money do you pay to these mothers?
The maximum income per month for mothers was about 3,500,000 Tomans and 10% of all the mothers receive this amount.
Do you calculate the cost of ingredients in this income?
No. we pay them about 12 to 13 million Tomans per month. They are professional.
what percent of them are the head of household?
About 30%. And around 30% of them don't need money and they just love cooking.
What is the reason that Mamanpaz doesn't reach a big growth?
Scaling is a problem in our business because we have many works done outside of web. But the hardest part of our business is delivery.
We want to cover 19 and 20 area of Tehran and we should start its delivery service before anything else.
It seems that the price of your foods is to some extent high and one day you will lose a part of your customers who are worker and student.
Yes. But we can not reduce the price because of delivery cost. Definitely we will lose a part of our customers.
Do you have a plan to receive the cost of delivery?
Yes, we want to launch an app so that we can receive this cost.
About 1500 Tomans. But first we should see how our customers would react to this.
We offer three types of products: individual, company and ceremonies. Right now individual orders constitute the most part of our job but we want to expand the other types as well.
How much does Mamanpaz advertise?
We haven't advertised for our business so far.
Haven't you felt that you should be introduced or known more?
We didn't advertise because we want to control our growth. We didn't want to have many customers without the ability to provide them a good service.
How many orders do you get per day?
About thousand orders, but we had 3000 orders a day too.
Which foods are offered in your site?
Between 70 to 80 kinds of foods.
Are orders done a day before?
Yes. Mothers cook according to the number of orders so that no food is wasted.
How do you control the freshness of your foods?
We haven't any complain about the quality of foods. Each mother should cook a different food each day.
Don't you think that many people can't use internet and therefore you will lose those potential customers?
We accept orders by SMS as well and our app will be launches soon. If we want to have a call center, we should employ 10 persons and we need a big space for it. If someone can't use this app, he/she is not a startup customer.
Don't you have a customer who calls you by telephone?
We have. 8 to 10 persons each day call us and order what they want.
How is your interest calculated?
30% of the price of each food belongs to Mamanpaz and 70% of it is for the cook. Packaging and distribution cost is included in this 30%.
What is your outlook for Mamanpaz?
Our first goal is to cover all parts of Tehran and we want to become the first option for ordering food in Tehran in 5 years. We want to have branches in other big cities.
Do you think how many employment would happen if your business becomes larger?
We want to deliver 200,000 orders per day. How many cooks should cook these foods? Each cook can prepare 16 to 60 foods. It is 30 foods on the average. If we divide 200,000 foods to 30, we come up with a large number.
It is going to happen in 5 years?
No, we think it needs more time and this is our vision. But we want to become one of the first options for ordering food.
How much money have you paid for Mamanpaz so far?
About 300 million Tomans.
Have you attracted investors?
Yes.
How much is the capital attracted?
I prefer not to mention.
What percent of the share does belong to you?
Less than half because investor should be manager so that he/she has enough motivation to run the business.
Has Mamanpaz been rated based on value?
I prefer not to say.
If an investor wants to buy the whole company, do you sell Mamanpaz?
No! This is my business and I don't want to sell it. It happened but I didn't accept.
From foreign or domestic investor?
Foreign investor, the one to which most of current internet businesses are related.
How much money did they offer?
I prefer not to mention it.
If a business similar to Mamanpaz emerges in the market, what is your reaction?
It depends on how much it is serious. If it has large capital, we have to expand our workforce and attract more capitals.
Do you think how many people in Tehran know you?
10 percent.
Do you know how many foods you have sold from the beginning until now?
More than 200,000 foods within two years.
How many foods did you sell at first month?
About 50 foods and we have grown constantly.
We sold about 40,000 foods at last month.
Have you calculated your growth rate?
Our sale is 20 times more compared to last year.
You use a special packaging like old bundles. How did this idea come to your mind?
We had this idea in mind from the very beginning to have a packaging suitable for the name "Mamanpaz".
We wanted it to be different and feel like home. We calculated the price and costs and because it is not high we offer this kind of packaging.
What are the most important risks and threats? Which factors can lead to your failure?
Distribution and delivery. These are the hardest parts. But it is related to individual delivery because it is time-consuming. Maybe in this part of the job, we face with the problem that Uber is faced.
Uber is sued by Taxi agencies in different countries and now it should attend many courts and defend itself.
Taxi agencies say that Uber must not get involved in taxi business because they don't have taxi license.