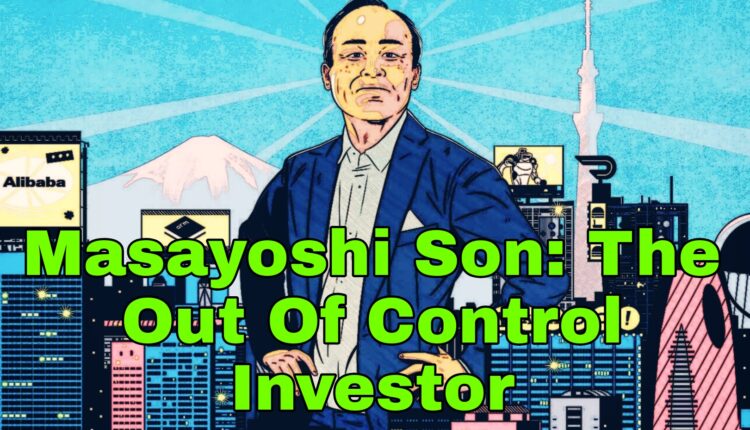 Masayoshi Son: The Out Of Control Investor
Who Is Masayoshi Son: The Risk-Addicted Billionaire?
By Alvand Khaleghi, Amira Ali Azadi, Emin Aroutounians
Masayoshi Son, is a 64-year-old Korean-Japanese billionaire, technology entrepreneur, investor and philanthropist. He is well known for his position as the founder, chairman and CEO of SoftBank.
He graduated from high school in the US in only two weeks and proceeded to graduate from the university of California, Berkley, at the age of 20. He used his technological knowledge to invent and patent a translating device which he sold to Sharp Corporation for $1 million. He made another 1.5 million dollars by importing used video game machines from japan, on credit and installing them in dormitories and restaurants.
He returned to Japan in 1981, and a year and half later, he started SoftBank. SoftBank originally started as a telecommunication company; however, it has now changed gears and is more focused on investing into profitable businesses and obtaining a profit.
Masayoshi Son has made hundreds of investments, but the vast majority of those deals have collapsed and have caused a massive damage to Mr. Son's net worth over the years. Yet there is a single investment that has made him to be compared to other investing juggernauts such as Warren Buffett, the investment is none other than his famous 20$ million-dollar investment in Alibaba in the year 2000 which was worth 130$ billion dollars in 2018.
As of May 2022, Son ranks 74th on the Forbes list of "The World's Billionaires". Although for a 3-day period of time he was in the top 20 richest men in the world before the dot com bubble burst where he lost 70$ billion dollars which made him drop down to under top 50.
Speaking of Masayoshi Son being compared to Warren Buffett, this particular topic has been making a lot of buzz in the business industry, although it should be stated that their method of investment is far from being alike. One is very preserved and the other very impulsive.
For instance: it is very well known that Warren Buffett likes to take his time while considering investing on a company and tends to think about the profit he will be able to gain in the long term rather than the short one. On the other hand, Masayoshi Son tends to make a decision very swiftly and in an impulsive manner which we have seen him do quite often, with the perfect example of WeWork, as Adam Neumann managed to convince him into investing in only 12 minutes.
Another difference they have is that Mr. Warren Buffett is not keen on investing on artificial intelligence and likes to focus his investments on the industrial sector; however, Mr. Masayoshi Son is the exact opposite and is more enthusiastic about the growth of technology.
As of 2020, the vision fund had invested in 88 companies including the famous companies such as: Couoang, Didi, Doordash, Fanatics, Grab, Paytm, Uber and the biggest let down of them all WeWork. In 2022, SoftBank Vision Fund posted a record 3.5 trillion yen loss for its financial year end on 31st of march 2022.