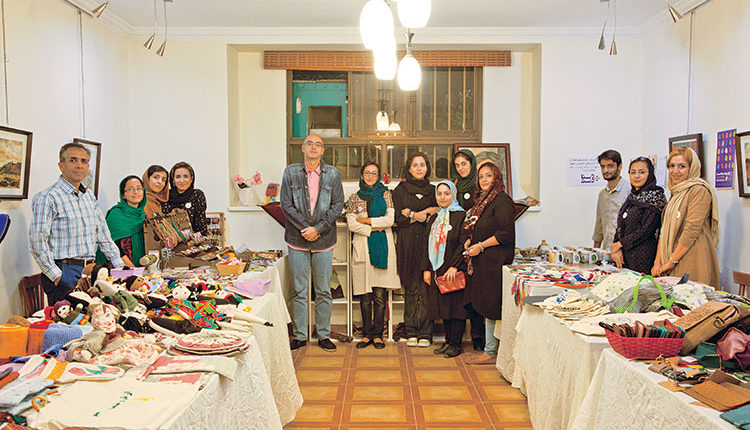 Startups against poverty
Faezeh Derakhshani talked about Dastadast startup and its implications in north west or the country
It seems that only in our country which has a special situation, after one decade from the launch of online businesses and daily prevalence of internet stores, we should still prove the importance and effectiveness of this field.
We should prove this importance to people and organizations that don't offer solutions other than technological tools.
According to online businesses' experience, it is a narration of a truth that is tasted by near and far areas of Iran.
We shouldn't look for this taste in Tehran, Isfahan, Shiraz and … and we should look at villagers of Kerman, residents of Sistan o Baluchestan and Iran tribes.
Where women, men and artists can go to their workshops and hope that a startup person would come and sell their products.
Internet, social networks and online businesses which are mostly appeared in the form of startups, have become the revivalists of Iran domestic and traditional arts; arts which are all these people have.
In reports and conversations we have prepared in this issue of Shanbeh, we talked with businessmen and asked about social effects of startups in local societies and also we talked with public authorities about the importance of online space in making money and employment.
Faezeh Derakhshani talked about Dastadast startup and its implications in north west or the country and Naser Zargar, vice president of investment, culture and society, deputy of village and deprived areas development of presidency talk about these issues and programs they had in this field.
Also Narges Shayegh, CEO of Aranik; Arezo Khosravi, founder of FarshOnline; and Nadia MohsenPoor, CEO of Charagh have written notes about their experience in the field of social responsibilities and Ameneh Sayari talks about online sale of dolls that have brought life to a remote village.
She is ready to help people and we can feel it in her voice. She is born is Orumieh and studied computer engineering in Orumieh university.
Faeezeh Derakhshani is a social entrepreneur. She is only 33 years old but has helped many people by launching a site named dastadast.ir.
She was interested in social activities since she was a student and participated in projects like promoting book reading for children.
Meeting a Bangladesh entrepreneur
Meeting a person named Yunes who had done things in Bangladesh to fight with poverty in the society, made her interested in social entrepreneurship because in her opinion this type of work is more stable and that she can make people capable through her business had made her think about Dastadast idea.
"Social entrepreneurship is an activity and a business that uses entrepreneurial methods to solve a social problem and in fact Dastadast is formed to solve a social problem and solving it is the first priority of our activities.
We have started something to help those who are marginalized so that they can provide their products to the market and make money and also we try to empower those with whom we work through side programs we have.
In other words, target groups and audience of Dastadast are women, female-headed households, villagers, those with disabilities and the like."
Faezeh with the help of her active team is shaping a cycle in which Dastadast can do something so that those with whom it works can manage their lives independently through their work therefore Dastadast team tries to empower those ones through different trainings.
"We see training as a part of this cycle and it is very important for us but we don't have any budget for executing training programs.
We try to help people in designing their products so that they become more coordinated or can buy better tools for work."
Dastadast providers
Those who produce handicrafts like leather, jewelery, decorative works, carpet and etc. are the main providers of Dastadast most of whom produce these products from far places and different villages of the country.
These people mostly are connected to us through NGOs for example an environment group in one village defines a project and groups are formed to create methods of alternative cost of living most of which don't need water consumption.
For example, we worked with groups from areas around Orumieh lake for which the alternative living plan was defined to protect water and Orumieh lake.
Thus we launched a campaign in Dastadast by which money was collected from people and we helped them to buy sewing machine and we launched sewing workshops and then we put products produced by them in Dastadast and markets we have held two or three times in a year in Tehran for sale.
There are other groups they identify themselves like "Be persistent" project in which they could collect money for empowering a group of Afghan women through Instagram campaigns and Dastadast site so that they provide them tablet and train them how to work with tablet so that they can get out of poverty.
"We don't care about where we do training and empowering process. We do the works based on the conditions of each place.
For example the last place with which we worked, was a rehabilitation center of disabled girls in Azna city.
Those in this center do their works very slowly because of their disabilities and we couldn't put their products in site for getting order.
Thus we sold them in markets. We gave them advice about the products that were better to be produced and helped them in their sale."
The relation of NGOs with Startups
NGOs are the communication point of Dastadast with those who need to be empowered.
"NGOs have relations that we can't create them easily because of our distance, right now we work with 15 cities and having relation with all of them is difficult without NGOs.
NGOs provide these initial relations for us but on the other hand we didn't stop trying to find groups in need because we believe people who are in need aren't usually in none of these groups and NGOs.
For example, Afghan women group was one of the examples that we found them ourselves."
Faezeh works with different NGOs which are active in the fields of empowerment activities, environmental activities or working with women.
"NGOs work with different goals but the whole idea is that a cooperation between startups and NGOs takes place. For example a person who wants to do social entrepreneurship can imagine two goals.
The first one is to do their business as usual and by the income he/she earns and by having relation with NGOs achieves the second goal which is a social goal.
For example, imagine a social entrepreneur that wants to provide medicine to places out of reach.
He/she can do the usual business in cities that is selling medicine and work like other companies and can provide additional facilities to faraway villages through the income he/she earns or receive less money for his/her service."
On the other hand she believes that NGOs should pay attention to the world to which we are going and see that activities are followed professionally and technology is an important part of it and these organizations can use these approaches and technologies present for entrepreneurship.
Social business rules
Their work is social entrepreneurship but business is business and has its own rules and due to distribution of providers in different cities of Iran that right now providers from 15 cities offer their products for Dastadast.
Faezeh signs agreements with each one so that the quality don't get hurt and they are committed to produce products in the time determined and send them to the customer.
"Based on the agreement we sign with the provider, she undertakes that all orders should be in accordance with the quality of initial work and if there is a complaint we take it back and if this becomes repeated, we don't work with that provider any longer.
We are serious in our work because if a business is formed with a social goal, it should be based on law and people should learn how to behave in the market.
Also the distance between the ordering and receipt by the customer varies according to the type of goods and have informed all these things in our site for example some works like weaving rugs is very time-consuming and it may take one month but most of products will be delivered in 4 to 10 days.
Also we receive 10% fee from those we covered for financing our projects from the sales in our site and 20% from other providers."
The effect of Dastadast on empowering people
Dastadast has created jobs for many people in need but Faezeh still believes that she has a long way to go and there are many works to do.
"I can't say that right now we have made many changes in terms of income for people with whom we work but we could make changes in their self-confidence for example they have learnt how to use internet and social networks and find new jobs and work.
For example, a person make handicrafts and he improved its work with our guidance and in the last market held, all of his works were sold out.
If we examine in terms of number, the number of sold items may be less than 10 but he gained confidence because all he had produced were sold.
And women around Orumieh lake with whom we worked, just could produce a collection of uniforms and dolls for which there wasn't any market but with our training and videos we sent to them, some of them learned to make 40-piece kitchen sets and produce better dolls."
Most important barrier
The most important barrier was lack of law! Lack of law for businesses and social entrepreneurship has made everything difficult for Dastadast.
There isn't any definition of social entrepreneurship in any kinds of companies and the model of this business is not predicted in law, otherwise things would be easier for Faezeh's team.
In spite of all these challenges, the incentive of Faezeh and her team members and their interest and belief has made them not to stop and they wake up every morning with an enthusiasm for Dastadast and love their work and they are proud of Dastadast that is one of the first social entrepreneurships in Iran.
Financial supports and making rules for startups and businesses that work with a social goal, can pave the way for those interested in these kinds of activities.
See related post here.