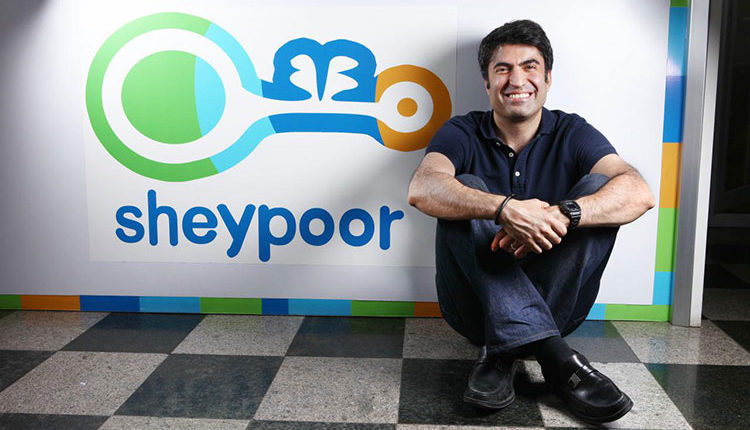 Sheypoor thinks of one-billion-Dollar share in the market
Sheypoor is an application which help users find what they want and need. Reza Arbabian, founder and CEO of Sheypoor, talks about Sheypoor plans and this market
Sheypoor is an application which help users find what they want and need. Reza Arbabian, founder and CEO of Sheypoor, talks about Sheypoor plans and this market.
You lived in Canada. Why did you come back to Iran?
When I was 14, I went to Canada with my family. Two years later, my family came back to Iran and I stayed there alone. I got my M.A. there.
How old are you and what is your major?
I'm 34. My bachelor degree is in economy and I got my M.A. in MBA.
When I finished my study, I came back to Iran. My family had launched production line of Sahand Towel in Tabriz and I worked there. But I always wanted to do a modern business.
Why did you come back to Iran?
The most important reason was my family. Another reason was that I wanted to launch a business in Iran.
Then you launched Sheypoor?
Yes. In 1390, I decided to launch an online business. At first, I wanted Sheypoor to be an online automobile store. Because of that I visited many physical automobile stores and talked to them. Then I thought it was better to launch a business like "craigslist" which was working in Canada and the U.S.
Didn't we have such a business in Iran?
There was only "istgah" which was about advertisement not the products and services in need.
How many people did work for you?
I was alone. At the beginning I used a Turkish site as a sample. But this site was not a good model for me because I had been working for 12 years. Also I didn't have enough technical knowledge.
Which services did you want to offer in Sheypoor?
The most important thing was recognizing a need in Iran. The need to provide what people need online. In Iran people don't look at second hand goods as something bad. But in Canada I only bought second hand goods. I think Sheypoor can offer easy access and increase purchasing power. Moreover, Sheypoor can offer different variety of goods.
Where does Sheypoor stand in Iran startup ecosystem?
We are one of the biggest online companies in Iran and we have two types of competitors; horizontal and vertical competitors. Horizontals offer everything and verticals focus only on one field.
Do you have any plan to work on advertisement in the future like "anetwork" or "sabavision"?
They are "B to B" businesses and we are "C to C". we don't have advertisement in Sheypoor and we don't want to.
Who are the most important players in Iran needs market?
Hamshahri.
How many visits does Sheypoor have each day?
About 300.000 persons per day.
From 1394 until now, our growth have been 15 times more.
What is the statistics about Sheypoor ads?
It is more than 30.000 ad registration per day.
What is the competitive advantage of Sheypoor over for example Divar?
We both work in the same field, but our competitive advantage is that in Sheypoor, there are businessmen and business owners but in Divar, ordinary people offer their goods. Also, our application is free.
How many employees do you have right now?
50 employees.
How does Arbabian provide funding for this free app?
We decided not to earn money so far. This is our strategy. We have had capital attraction from two Iranian and foreign companies. Our most important investor is Pomegranate company.
How much money has been invested in Sheypoor so far?
I can't tell.
What is the vision of Sheypoor?
Our main vision is that all Iranians in different cities and all around the country can have the best transactions; for example good price, good quality, easy transaction and etc.
How many people would be employed in such a vision?
About 300 persons.
Are startups like "Bama" a threat for you?
There are some concerns because the market is competitive, but it doesn't mean that Sheypoor would fail.
Sheypoor is an application which help users find what they want and need. Reza Arbabian, founder and CEO of Sheypoor, talks about Sheypoor plans and this market.
What would happen to Sheypoor if similar companies from foreign countries enter Iran market?
One of the biggest foreign companies has entered Iran recently, but it failed. Because Iran isn't a simple market and it has its own cultural issues. On the other hand, our presence in the market is a barrier for their success.
Didn't they propose cooperation of investment?
No.
Maybe we accepted but it depends on their offer.
How much is the value of your business?
Right now Sheypoor value is about 50 million Dollars. In the field of startups, it is difficult to determine a value.
Do you think you are successful and which startup in Iran is a successful in your opinion?
Each person has a different view about success. We haven't reached our vision, thus we don't consider ourselves successful. But I think Aparat, CafeGazaar, Netbarg, Takhfifan and Digikala are successful.
You have advertisements in television and across the city, but some people say that Sheypoor couldn't attract customers in the online space so it shows that this startup has failed. What is your opinion?
I think these people don't have a proper knowledge about online field, because Digikala had billboards and television ads too. So it doesn't mean that we failed and don't have customers. Sheypoor is one of the biggest sites in Iran.
I think it is related to the fact that you haven't earned money after four years; because for example Digikala has talked about its revenue.
It was our choice. I accept that we had some mistakes but it became one of our strengths. We are trying to build culture.
Don't you think that with more than 300.000 daily users, you have built this culture?
No it isn't a big growth comparing to the number of people in the market which is about 80 million people.
Are you from private sector?
Yes.
Some people say that domestic entities support Sheypoor which are not considered totally private. It is true?
Everyone who advertises in Iran is considered governmental or is related to security agencies. I reject these sayings.
What is your relation with CafeBazar and Divar? It is said that Sheypoor has bought a part of Divar. Is it right?
No. there isn't any relation between Sheypoor and CafeBazar. They are only our good rivals who have led to our growth.
What is the share of Divar in the market?
I can't mention a figure, but Divar is ahead of us.
What would happen to Sheypoor if it becomes a paid app like Divar?
It's about competition. We have maintained these users and if we want to earn money, then our growth would decrease. We want to maintain our share in the market. We want to increase our users.
Divar has entered to Afghanistan. It actually wants to grow in Iran and other markets in the region. Do you have any concerns about this?
Divar has entered to two cities in Afghanistan and it is in the level of testing. We are not left behind. Iran market has so huge capacity that we don't think about markets outside Iran.
Are all the figures and statistics provided about startups true and real?
I accept that some of these figures are not true. I think the more clear we are in this market, the better we can control possible damages.
What was the strangest thing offered on your site?
It was a piece of wood which belonged to a famous tree in Imamzadeh Saleh. A man wanted to sell it with the price of about 20 million Tomans.
Did you have unusual sales? Like kidneys?
We had but we filtered them. We have redlines in our country.
Sheypoor cactus business
Reza Arbabian has maintained a startup atmosphere in his company and wears simple and casual clothes. He has a cactus collection in his office. He has a good relation with his team. He refuses to offer statistics and figures like any other person in other startups. He repeatedly says "I can't tell".