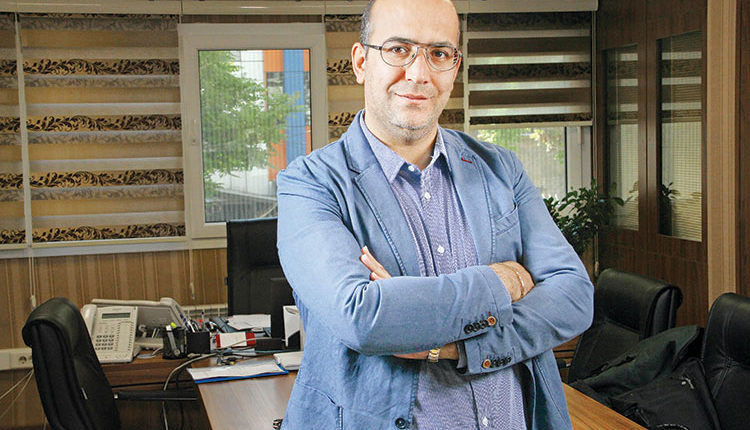 The future of the press is failure!
Mohammadreza Mohseni is the founder and CEO of advertising center of Peik Bartar and iBartar startup
Mohammadreza Mohseni is the founder and CEO of advertising center of Peik Bartar and iBartar startup. He talks about everything from offline publications to the future of this field. Here is the interview with Mr. Mohseni.
You entered media and press in 1386 when seven years had been passed from the launch of Peik Bartar. What did cause you to enter this field?
When deputy minister announced that advertising couriers weren't authorized to work, we referred to press. On the other hand, we saw that we had capabilities in this field.
We published famous magazines like Ideal, Sibe Sabz, Mnazel, Shahrzad, Takhte Gaz and etc.
In 1389 you entered online business. What had caused you to do this?
We thought of a site in which we publish advertisements. We launched "Kaam". Because we had many publications and useful content, we decided to run a site and put our content on it. So we launched "bartarinha.ir".
What are the factors that caused you to have such a need?
There are two factors. First, from the time smartphones entered the market, IT became more serious and technology played an important role in the field of news and advertisement which threated written advertising.
Second, the cost of products such as paper, ink and etc. increased and the price of dollar increased. Thus we focused on development of our media.
What is your outlook in the realm of IT?
We aim to have 50 media with high influence until 1397.
What are your most successful media in the realm of IT?
Bartarinha.com and bartarinha.ir which are in the field of sport, Hamgardi in the field of tourism and entertainment, AloDoctor and HiDoctor, Chidaneh in the field of furniture, NiniBy and KoodakYari, etc.
What is the priority of ibartar over PeikBartar?
Because it is related to IT and offer services to all over the country.
How does iBartar earn money?
We haven't got any money from iBartar since now.
What are the competitive strategies of your business?
Our strategy is B2B; that is local business from which people can meet their needs.
What are the risks and threats of online business?
I think that every issue is an opportunity not a threat. But some networks like Telegram interfere in the market. Telegram provides content which is in contrary with our professional content and it is a threat for us.
Do you think that Telegram is a threat for your business?
Yes.
Because in this network all the advertisement with every content are provided and there is not a good monitoring.
How many employees do you have?
Currently more than 2000 people work for us.
How many years does it take to cover all areas of Iran?
We will reach this goal until 1398.
How many users do you have?
About millions.
How many businesses are registered in iBartar?
We have more than 500.000 registered businesses across the country.
Is it possible that one day you put aside PeikBartar and only continue with iBartar?
It is possible. Maybe one day we do this.
Is there statistics about business investment on advertising in Iran online environment?
Total cost on different businesses for advertising in Iran online environment was about 100 billion Tomans last year.
What is the annual growth rate of online business and advertising?
I think the growth rate is 40 to 50 percent. Thus such a growth indicates that this field has a good future. But this business requires high cost and it has hardships and complexities.
What are the difficulties of this business?
In online business it takes two years for a media to grow and make a brand. Also you have to spend money in these two years without any earning.
How can you invest on branding an online media?
I think content production is the most important issue in branding an online media because it is the content that shows the difference between media not the users.
Also promotions, space rent and bandwidth are the most important sectors of investment.Currently about 15 percent, if we consider both sales and earnings.
So if your earnings in this field was 100 billion Tomans last year, your share has been 15 billion Tomans. Is it right?
Yes.
Do you plan to increase your share?
We aim to increase our share to 50 percent per year in the next five years.
Some print media like Hamshahri and JameJam haven't entered online space or they haven't been successful in this field. What is the reason?
Print media have two options. They can enter online space themselves and combine traditional and online methods, or they become obliged to enter this space.
Do you think that if a media like Hamshahri doesn't enter this online space, it would be removed completely?
Yes. If it doesn't fail, it wouldn't develop its activities. I believe that online media have caused these traditional media to fall.
Is drop of circulation a sign of this happening?
Yes. Newspaper circulation in Iran is significantly reduced. For example Ideal magazine sold 80.000 issues several years ago, but now its circulation is only 25.000.
Does it mean that in the next five years, we will face with a serious challenge regarding print media?
We can't be sure of that. I think print media has failed and its circulation would decrease more than this. But increased penetration of smartphones in the society is a threat for print and offline media. Many readers have moved to online space.
What is the penetration rate of iBartar?
Currently this app is installed in more than 300,000 android devices, more than 200,000 ios devices and there are registrations in our website as well.
Do you have a foreign sample or model?
The closest model to iBartar is Yelp which works in European countries. Foursquare is sample too. But iBartar has some differences. It has some features of Yelp and some features of Foursquare.
We believe that mere modeling doesn't work in Iran and we need to do some localization according to domestic culture and Iranian society.
Which business do you mean?
For example online sale of foods. This culture exists in all over the world but it doesn't mean that it will work in Iran. It is not common in Iranian culture that a restaurant or food provider gives its products to a mediator to sell it.
But many of these businesses think that they are successful.
No, they are not. Rocket launched BodoFood which was not successful and sold ZoodFood. It didn't succeed either. I think our market is not ready for such a thing.
Do think that ZoodFood or Bamilo which belong to Rocket are not successful?
If we compare it with their costs, we can say no. you should pay attention to the failure of Mozanlo and Eskano as well.
But it is said that Snap has grown well.
Snap was TaxiYab before that didn't succeed and now it becomes Snap. it is possible that it fails too.
They consider this change of name as re-branding not a failure.
They are using dumping methods but I don't think that these methods would work in Iran. Because local taxi agencies and different competitors compete with Snap and Iran market is not ready for this volume of investment yet.
They have global experience and work in more than 48 countries but I think the most important cause of their failure in Iran is that they don't know Iran market and culture. Rocket slogan is: when a thing works in every part of this world, it would work in other parts regardless of cultural issues. But situation in Iran shows that this slogan is not true.
What would make your business hard if foreign competitors come to Iran? Do they have more capital or knowledge and global experience?
We don't have any problem regarding capital. I started my business with 3 million Tomans and I haven't received a loan or credit from anywhere. We sell our products with a good price and we have had the most profitable press in Iran. Capital is not our concern.
But they have more knowledge and experience. If we give 10 to Google regarding experience, we get 1. We want to join foreign competitors to make use of their knowledge not their capital.
But they can't compete with us in some fields like content production. We have the context and all we need is to train our workforce how to search, edit and etc.
On the other hand, content production is expensive. We produce more than 380 contents daily only in one of our sites which have high costs.
If a foreign competitor wants to buy a part of your share, what would be your reaction?
I would say no. I don't believe in partnership and right now I have 50-60 partners. I don't think about selling shares because I don't need capital. But I need knowledge and experience.
I have plans to work in the Middle East and around the world and we are working on its infrastructure. Thus knowledge and experience are the most important items for us.
Are you ready to invest on others?
I can't work with persons who say they have beautiful ideas. But if a person has power and is a good executive manager, I would invest on him/her. I have problem with ones who always complain.
What is the most important title that Mohammadreza Mohseni can gain?
I want to work at international level and I want to be known as the father of modern advertising in Iran.